Program AVG Web TuneUp is a browser add-on that developed by the well-known AVG to facilitate people using the web browser. However, some people may get some problems to uninstall AVG Web TuneUp on their Web browser, in order to get the right way to remove this program, please refer to the following content.


Problems of removing the toolbar
Generally, people can clean a browser add-on via uninstall its process on computer, or just disable and remove it on the specific Web browser if it does not have an install package. When people also try to uninstall AVG Web TuneUp in this way, however, the result is not so optimistic.
What make the plug-in difficult to be removed on the computer? It is actually due to your incomplete removal of AVG Web TuneUp, many people only uninstall it on the computer system, but not clean its associated settings and files complete on every web browser. So, how to get an effective removal of it? Just try the instructions below.
Uninstall AVG Web TuneUp thoroughly on your PC
Solution one – apply Special Uninstaller
Special Uninstaller is a third party removal tool that enable you to uninstall any unwanted installed program on the computer, and the highlight is: because its additional leftovers scan and removal feature, it can guarantee the complete removal of the application that will not leave any item on the computer, which is definitely a savior for those troublesome toolbar removal.
Tutorials to uninstall AVG Web TuneUp
Click to open Special Uninstaller, find and select AVG Web TuneUp from the menu of installed programs
Click on "Run Uninstaller" button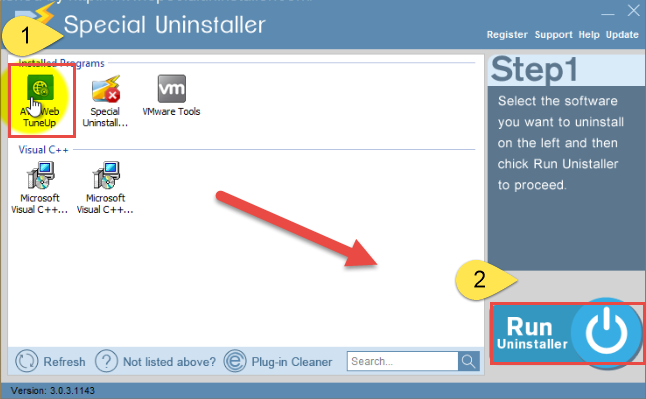 Then click "Yes" to start the removal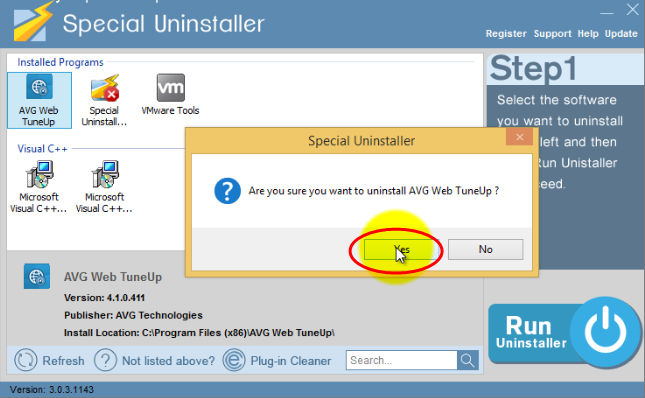 Click "Uninstall" button, and wait for the program being removed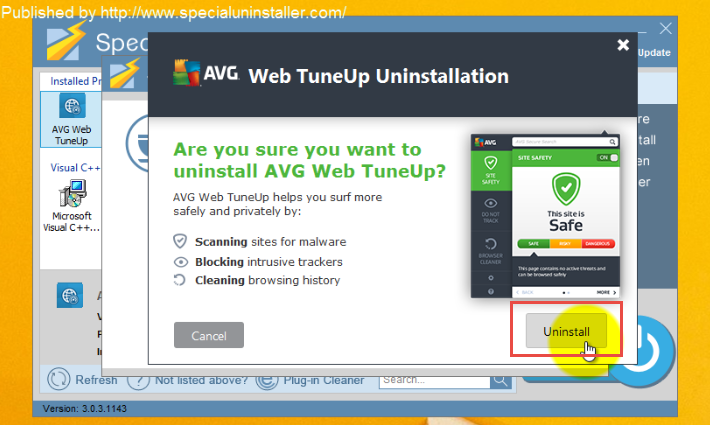 When finish, click on "Scan Leftovers" button to check and remove all of remnant files on the PC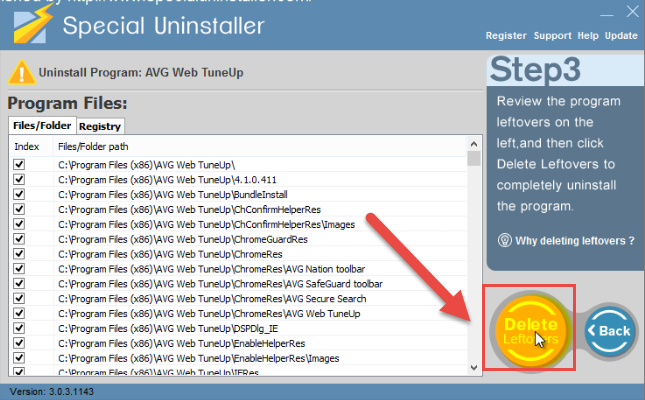 After that, you will receive a message which informs you about the complete removal of the toolbar
Check the video tutorial from Youtube:



Solution two – uninstall AVG Web TuneUp completely by yourself
Besides taking Special Uninstaller, it is also feasible for people to use another way to remove it – the Windows removal utility, which is the traditional way most computer users would like to use, but please notice that you should do an additional removal after that: clean every thing related to the toolbar on your Web browsers, as a browser add-on, it will create many settings and configurations on the browser, which usually cannot be detected and removed with the process during the uninstallation, thus, you will be able to uninstall AVG Web TuneUp thoroughly.
Firstly step – uninstall AVG Web TuneUp with Windows removal utility
Open the Windows uninstall panel on your computer, here are different uninstallers' names in different Windows operating system:
For Windows XP users: click on Start icon >>> Control Panel >>> Add/Remove programs
For Windows 7 users: open Start menu >>> Control Panel >>> Uninstall a program
For Windows 8.1 users: right-click on the Start icon >>> Programs and Features
Locate AVG Web TuneUp on the list of installed programs
Click on the Remove or Uninstall button, then process the removal with removing instructions prompted on the PC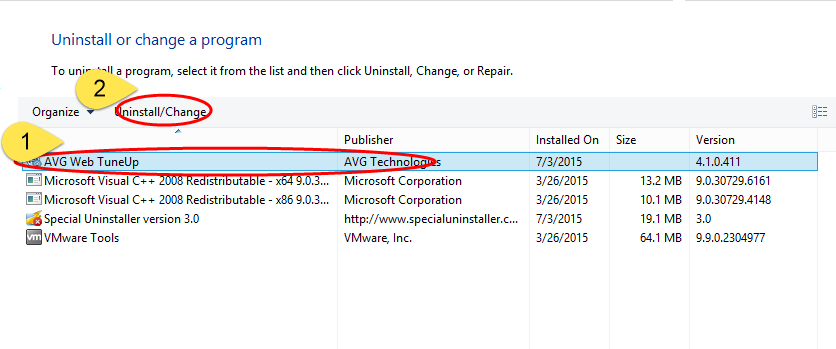 After that, restart your computer to get a refresh
Second step – clean its vestiges on the browser
On Internet Explorer
Open the browser, and click on Tools item
Then select "Manager add-ons"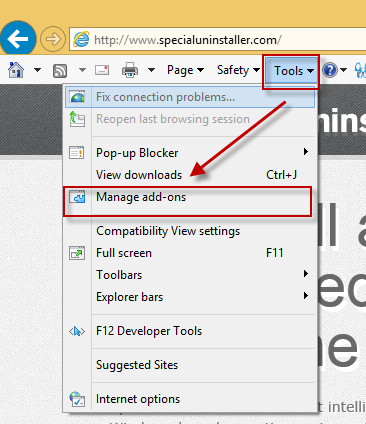 Disable and remove the toolbar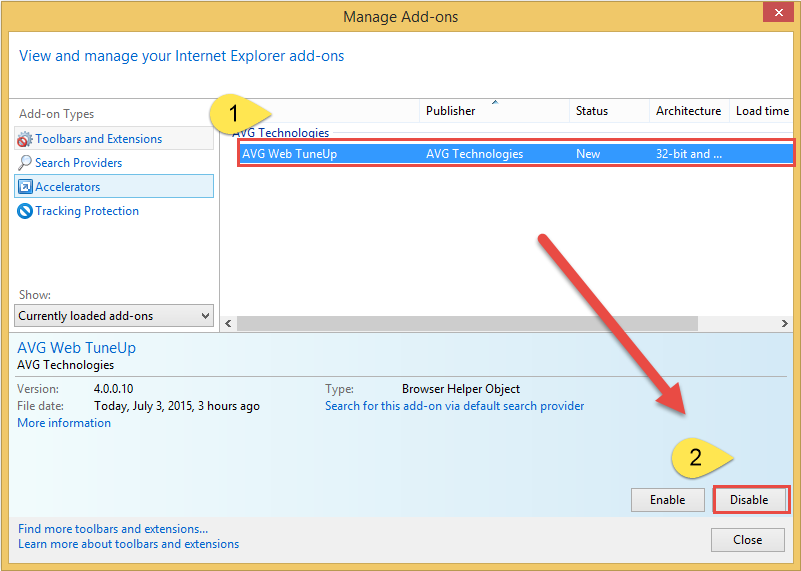 Go to the "Search Providers" tab, set other side as default, then disable "AVG Secure Search"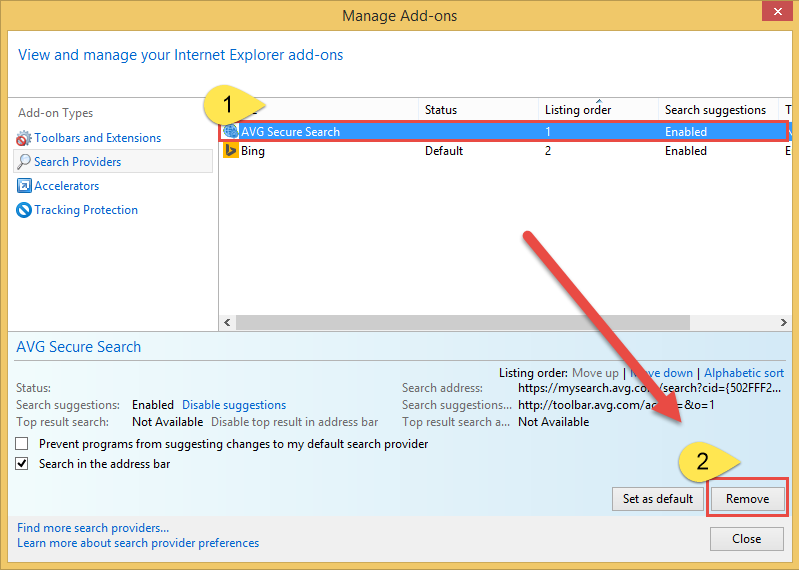 Click on Tools again, select "Internet Options"
Go to the "General" tab, then change the homepage to a site you frequently used
Close the Internet Explore
On Google Chrome
Open the browser, click on the icon with three stripes
Then click on Tools, then Extensions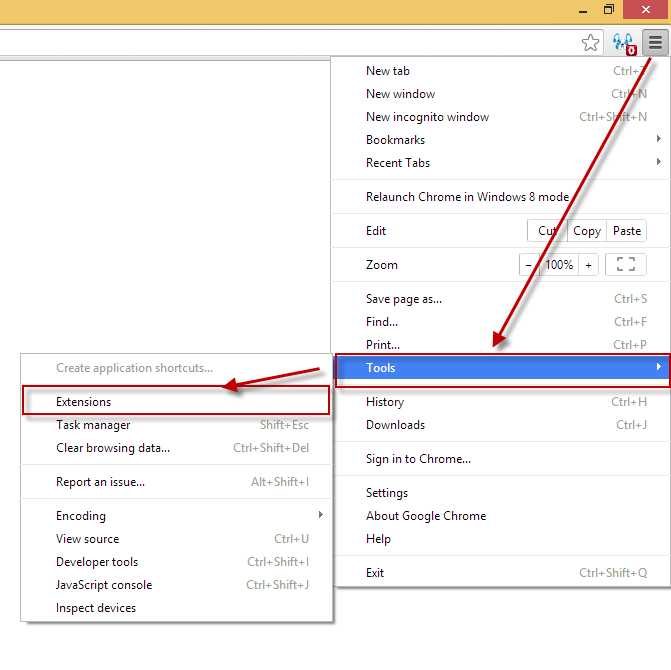 Find out AVG Web TuneUp, disable and remove it
Then go to the Settings section, click on "Manage Search Engine…"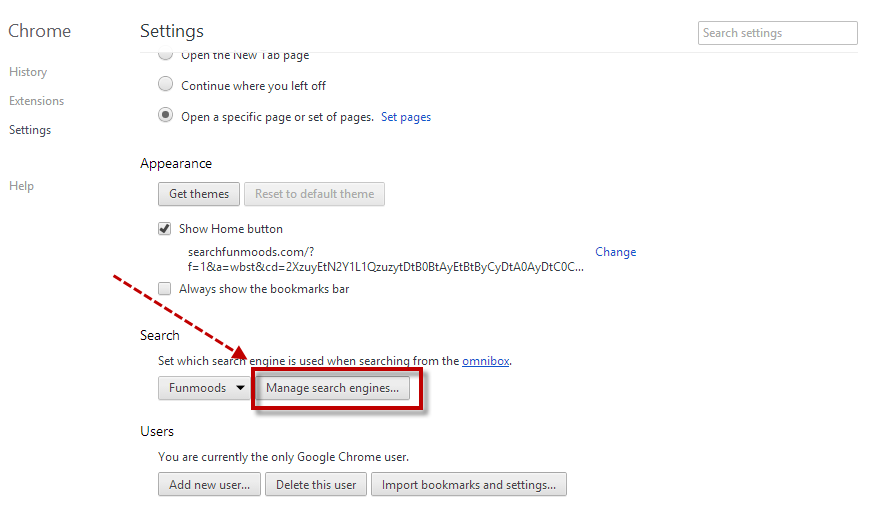 Change the default search engine instead of the one provided by AVG Web TuneUp
Close your Google Chrome
On Mozilla Firefox
Click on the Firefox icon at the top-left corner, then click on Add-ons on the menu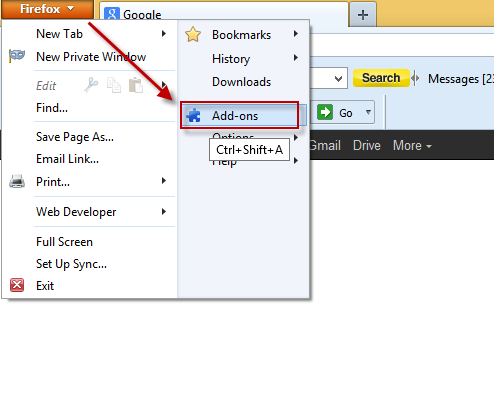 (Add-ons tab maybe display at the bottom of the start page of your Firefox for different browser version)
Find out the toolbar, disable and remove it
Also go to change the default homepage and search engine
How to handle the browser add-on removal easily
Removal of different kinds of browser add-ons is often a hot issue for many computer users, you will feel very lucky if you are able to remove it with common uninstall, but unfortunately, there are a great deal of plug-ins on the browser cannot be removed as easily as uninstall a commonly installed program, they will appears all the time and even display annoying advertisements while you are using the browser. Therefore, in order to get a quick and effective way to remove these stubborn tooblars like uninstall AVG Web TuneUp, applying a professional uninstall tool will be a better choice, it will not only simplified the whole removing process, but also ensure the complete removal, which are more suitable and useful for many general computer users with limited computer knowledge and experience.