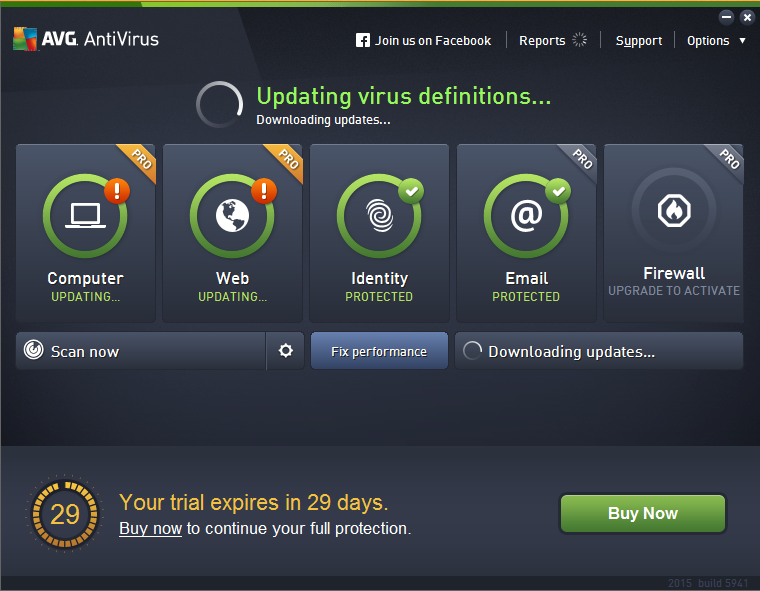 Want a good way to enable you to uninstall AVG Antivirus 2015 program? Do you encounter any incomplete or unsuccessful removal on the PC? Our guides will help you to resolve these removing problems and remove the application with ease.

About the product
AVG Antivirus 2015 is a popular PC security program that claims to provide advanced protection for the computer users and their personal privacy. People can use it to check the system security situation and remove those identified infections on their computers.
Incomplete or unsuccessful removal?
The AVG Antivirus 2015 removal sometime is not as easy as many people think to complete, and the most typical removing issues is the incomplete removal and unsuccessful removal. As many people know that the antivirus program usually contains a lot of files and configurations on the computer, which often cannot be remove thoroughly on the computer with the program. On the other hand, when AVG Antivirus 2015 is not installed correctly or damage during using it, people will not be able to activate the removing process and uninstall AVG Antivirus 2015 smoothly as other installed applications.
If you get these unexpected problems on your computer, it is strongly recommended to read the following instructions about how can remove the antivirus program smoothly on PC.
Two available ways to uninstall AVG Antivirus 2015
Way one – remove AVG Antivirus 2015 manually
Traditionally, people would go to use the Windows built-in removing utility when they need to uninstall a program on PC. For different Windows system, the utility's names are also different:
Windows XP: Add/Remove programs
Windows 7: Uninstall a program
Windows 8.1: Programs and Features
If you have been using a computer for a long time, you must find that the Windows utility often cannot fully remove a complex program, and it also does not work for uninstalling a program which has been corrupted on the computer. Therefore, it only works for you to uninstall AVG Antivirus 2015 is installed and operating smoothly.
Steps to remove AVG Antivirus 2015 with Windows attached utility:
— Windows XP
1. Click to open the Start menu, then select Control Panel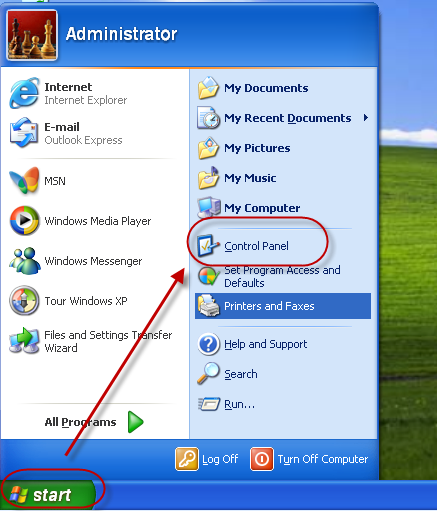 2. Click on Add/Remove programs
3. Find and locate AVG Antivirus 2015 on the list, then click on "Change/Remove" button
4. Conduct the removal with instructions
— Windows 7
1. Click to open the Start menu, then select Control Panel
2. Click on Uninstall a program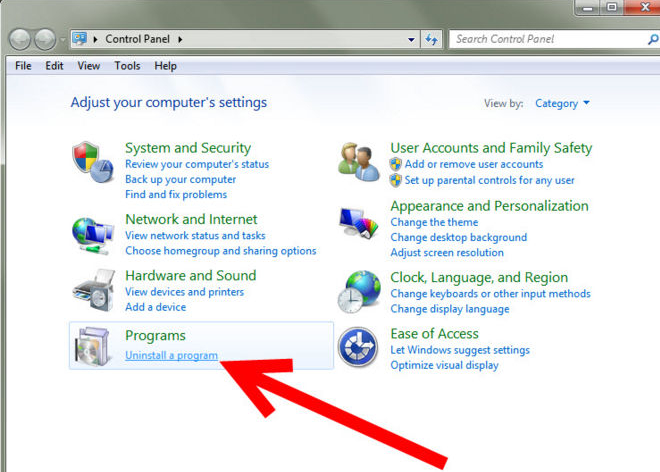 3. Highlight AVG Antivirus 2015 program name on the menu, click on "Uninstall" button
4. Start and complete the removing process with prompts
— Windows 8.1
1. Right-click on the Windows button, select Programs and Features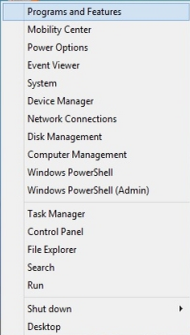 2. Select AVG Antivirus 2015 on the list, click "Uninstall"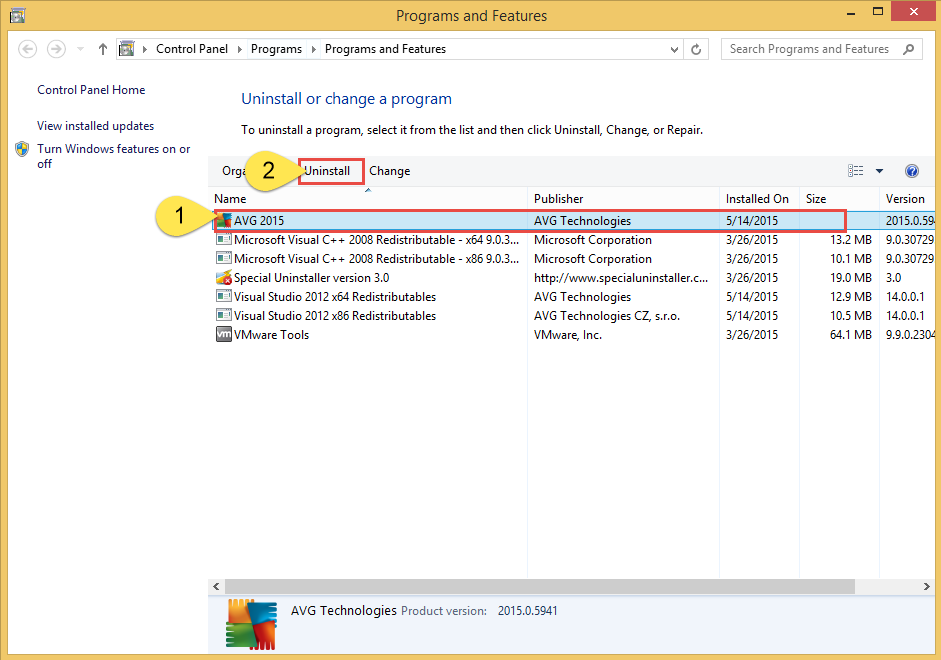 3. Finish to uninstall AVG Antivirus 2015 with instructions
Please note that you just finish the half removal of AVG Antivirus 2015 after performing the above program removal, what you should do next is to find out those leftovers on your computer (especial the installation folder and system registry), and delete them manually and thoroughly.
Firstly, please check the program's installation folder, if it still stay on your computer, please delete everything inside and empty the folder
Secondly, you should go to the Registry Editor (enter regedit in the Windows running text box), and delete all of registry keys related to AVG Antivirus 2015
After these associated files being cleaned well on your computer, you will uninstall AVG Antivirus 2015 completely. If you think it takes too much of time, or the system registry is too risky to remove (manual error of system registry will cause more serious problems for your system), maybe applying Special Uninstaller is much better for you, besides saving the time and effort, it will not contain any risky registry removal as in the manual way.

Way two – uninstall AVG Antivirus 2015 automatically with Special Uninstaller
If you want the program can be removed automatically without any further and annoying leftovers removal, Special Uninstaller will do a good job for you to uninstall any unwanted programs on your computer, including the AVG Antivirus 2015 application. So, why not take a look at how does the uninstaller work to remove AVG Antivirus 2015 and you can have a try?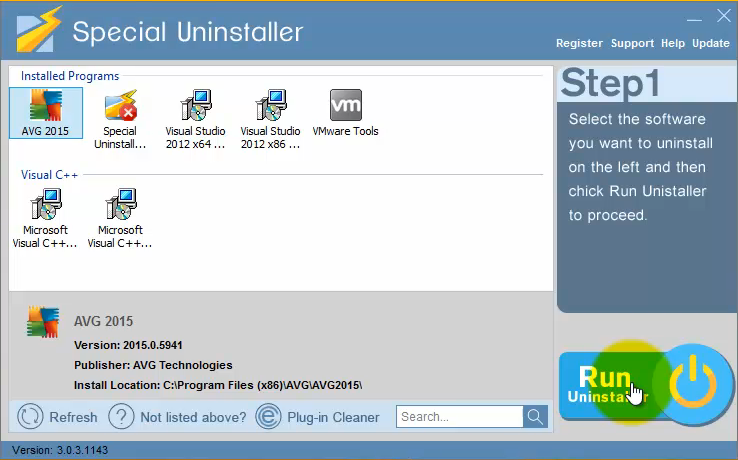 Click "Yes" to confirm that you want to uninstall AVG Antivirus 2015
Click on "Uninstall AVG" button and process the removal with instructions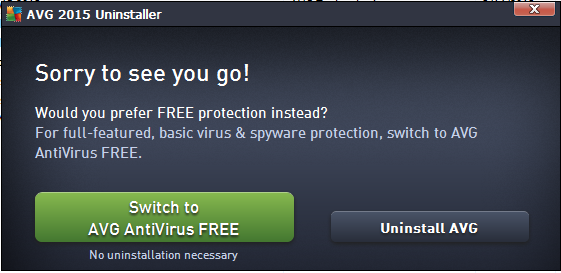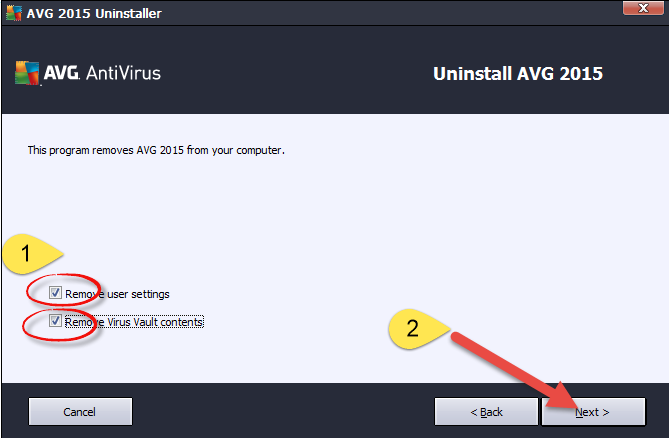 When finish, it will ask you to restart your computer, just follow its instructions and reboot your computer
After that, open Special Uninstaller again, click on "Review all the leftovers"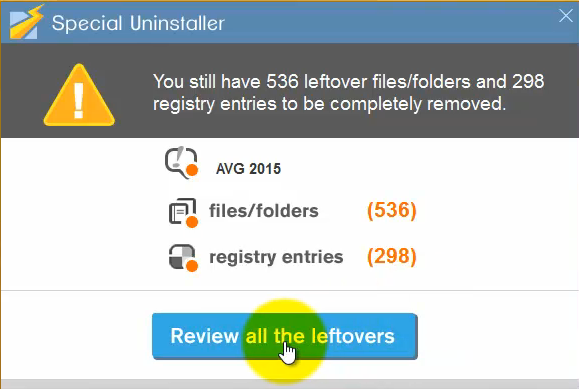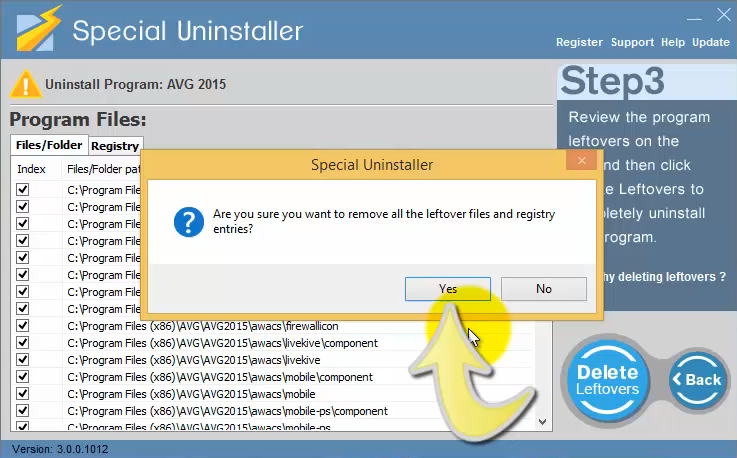 Delete all of detected leftovers, and you will receive a message which states that the AVG Antivirus 2015 has been uninstalled completely
How about cannot uninstall corrupted program?
If you find the program has been corrupted and cannot use the common removal way, please click on the "Not listed above" at the bottom of Special Uninstaller, it will help you to clean all of associated files and folders on your computer, and you will be also able to uninstall AVG Antivirus 2015.
This video just shows you how to uninstall it with Special Uninstaller: