Follow the instruction to correctly remove WhatsApp in Windows 10 Step by Step.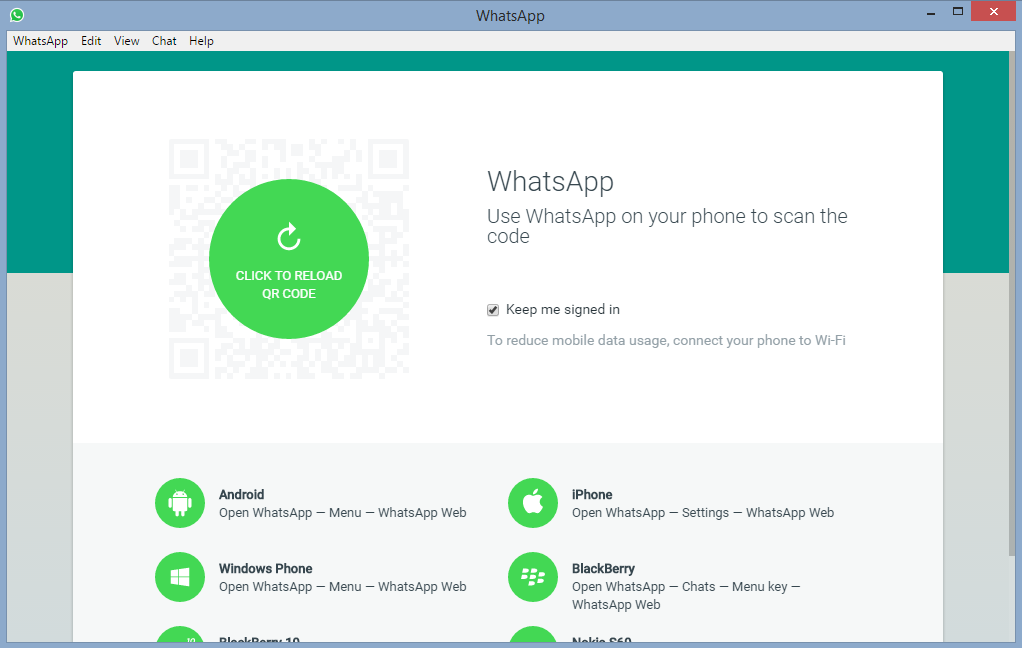 WhatsApp Messenger is a cross-platform mobile messaging app which allows the user to exchange messages without having to pay for SMS. This application is currently available for iPhone, Android, Windows Phone, BlackBerry, and Nokia. With an annual fee of $0.99, you get to communicate with your friends in many ways including the exchange of text, image, voice and video, provided phone is connected to the Internet.
As this application has a large group of users, we can often see questions being post on forums to seek help. If what you're looking for is a removal solution, you have just come to the right place.
In the following content I will teach you how to effectively remove WhatsApp in Windows 8/10 (since the steps on both systems are almost the same), and how to delete your WhatsApp account with your phone. For any questions you need to ask about this subject, leave your comments and you shall receive our reply soon. Click these links to quickly reach the specific tutorials:
Manual Uninstall Steps
Automatic Uninstall Steps
Delete My WhatsApp Account


Manually Remove WhatsApp Step by Step
Step 1: A Little Preparation Before Uninstall
1.1 Be sure you're using the Administrator account, or an account that has the administrator rights. Otherwise you will need to provide permission password when uninstalling a program in the system.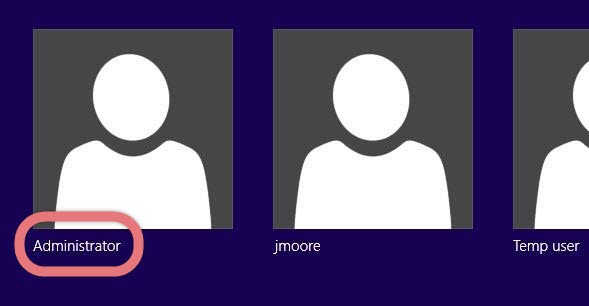 1.2 Quit WhatsApp, make sure the program you're trying to uninstall is not running in the back ground.
Step 2: Remove WhatsApp via the Control Panel
2.1 In the bottom-left corner of your screen, right-click on the Start button (Windows logo) and select Control Panel.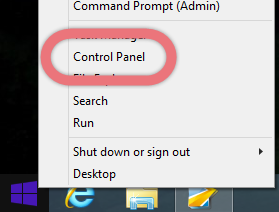 2.2 On the Control Panel, click Uninstall a program under Programs.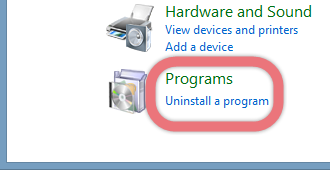 2.3 Now you are viewing the list of currently installed programs. Scroll to find and double-click WhatsApp to activate its built-in uninstaller.



2.4 If there is any on-screen instructions, follow them to proceed with the removal.
Step 3: Remove WhatsApp Vestiges via the Registry Editor
3.1 Point your mouse cursor to the bottom-right of the desktop, and the charms bar will show up. Select Search.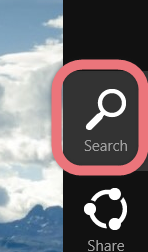 3.2 Type "regedit" in the box and click the result to open the Registry Editor.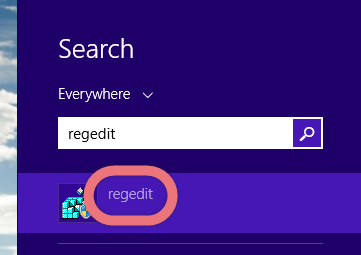 3.3 (Optional) Now the Registry Editor is open. Click File > Export on the navigator, type a file name and save the back up copy of the whole registry to your preferred location. This is a precaution in case of any mistaken deletion.


3.4 On the navigator, click Edit > Find… and enter "WhatsApp" in the box to search for the remaining files (registry entries exactly). Delete them (if found) to completely remove WhatsApp.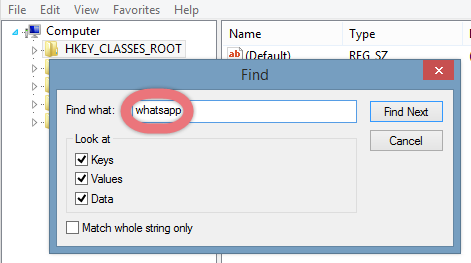 Step 4: Restart Your PC.


How to Uninstall BitTorrent Pro?        How to Uninstall Spotnet versie 2.0?


3 Steps to Remove WhatsApp from My PC
To spare yourself the tedious work to remove WhatsApp, this is definitely a better way to go. Anytime in the future when you're facing an unwanted program, you will never again need to figure out where to dig in the system to root it out. See how the Special Uninstaller helps you with the removal:

1. Get Special Uninstaller.
Click any of the blue download buttons on the page or visit the homepage to download and install this removal tool.
2. Run Uninstaller.
Double-click its desktop icon to launch it, you will know what programs are currently installed on your PC. Find and select WhatsApp as your target, and hit Run Uninstaller to scan for all the related files.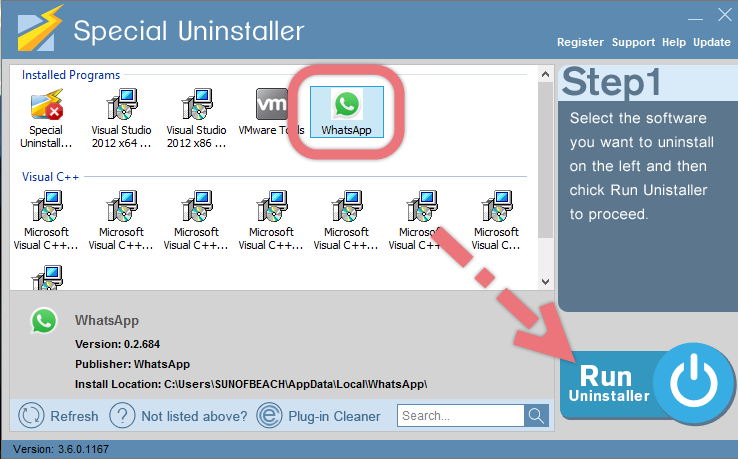 3. Scan Leftovers > Delete Leftovers.
Confirm the removal. When it says "Please wait while Special Uninstaller initializes the uninstall process." Then you can click Scan Leftovers to scan for its leftovers, and hit Delete Leftovers at last to completely remove WhatsApp.
Clicking

 will bring you back to the program list, then you may check whether WhatsApp has gone from your PC.

How to Delete My WhatsApp Account?
Firstly you need to know doing this will:
Delete your account from WhatsApp.
Delete you from your friends' WhatsApp Favorites lists.
Delete your from all WhatsApp groups.
Delete your message history on your phone and your iCloud backup.
The customer service can't do that for you at present. So now if you have made up your mind to delete your WhatsApp account, perform the following steps on your iPhone (Learn how to delete your account on: Android and Windows Phone)
1. Make sure you have updated your WhatsApp to the latest version. Check the App Store on your iPhone to see if there is any update.
2. Open WhatsApp and go to WhatsApp Settings > Account > Delete My Account.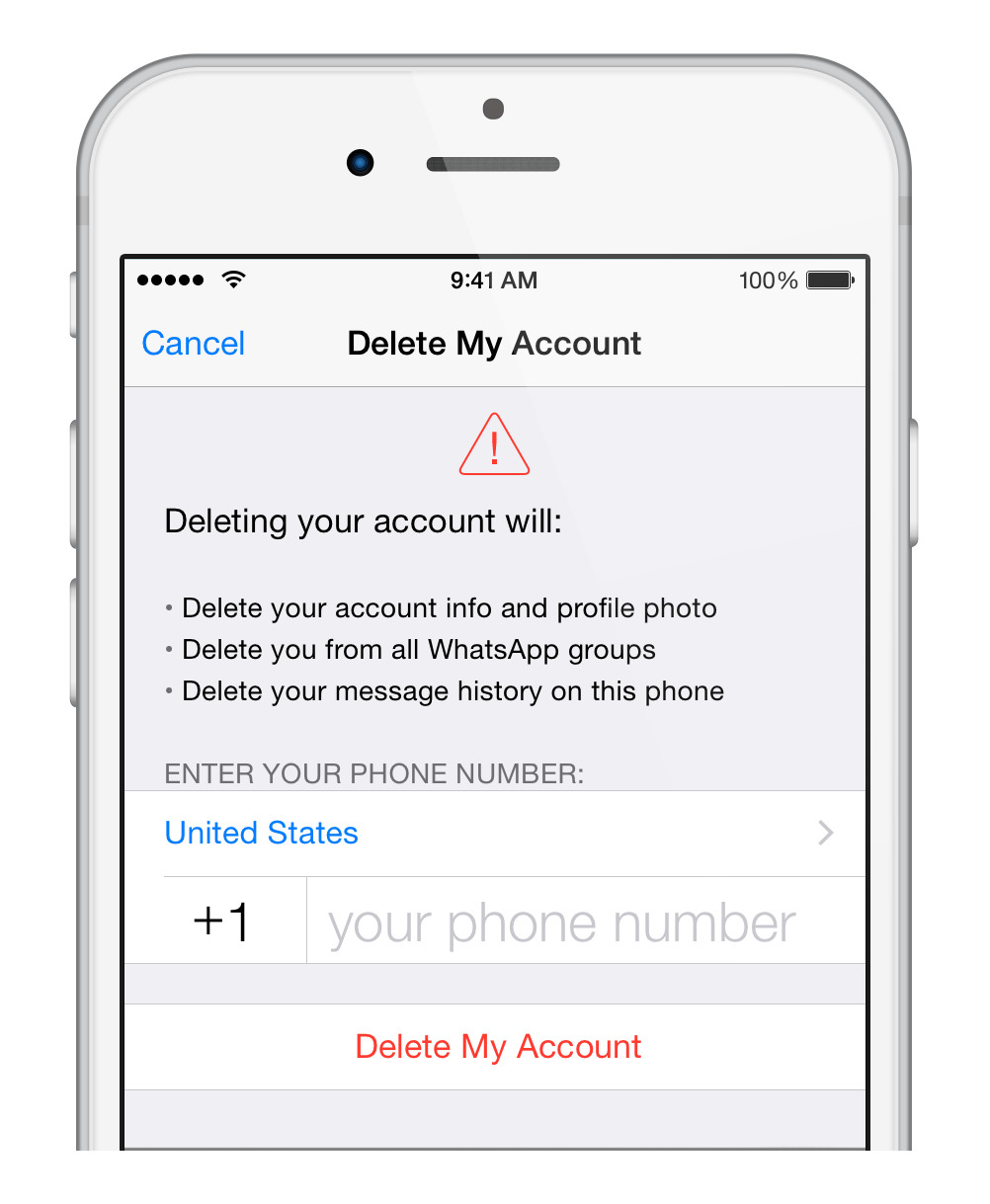 3. Enter your phone number in the full international format.
4. Again, if you are very certain you want to delete your WhatsApp acount, tap Delete My Account. It's more or less like deleting the past, huh. XD