Today I will share some ways to uninstall Connectify Hotspot.
"Honey, call the reception desk for WIFI password of our room!"
"No, I've got Connectify Hotspot."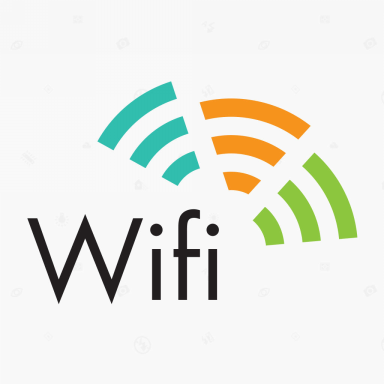 Is that conversation familiar to you?
Nowadays, I believe that people are eager for WIFI wherever they are, like in the restaurant, hotel or any other places.  In the past, the first sentence we would say when we sit down in the restaurant was asking waiters and waitress for menus, and now it becomes " What is the WIFI password here?" . I don't whether you notice the change or not, trust me, it's true. In a party, peopele just sit on the coach and look at their phones without talking to each other. That is why many WIFI hotspot devices and programs are making their way into our daily life, because people are eager for it. At the same time, this kind of programs and devices could cause a lot of problems to you. Want to know why? Let's talk about it. And I would start teaching you how to uninstall Connectify Hotspot.


Something about Connectify Hotspot
Connecify Hotspot is one of the programs that make your PC a WIFI hotspot. With Connectify Hotspot, you are able to share any Internet connection with all your devices including cellphones. You can also use it where the WIFI password is in charge instead of buying an expensive hardware router.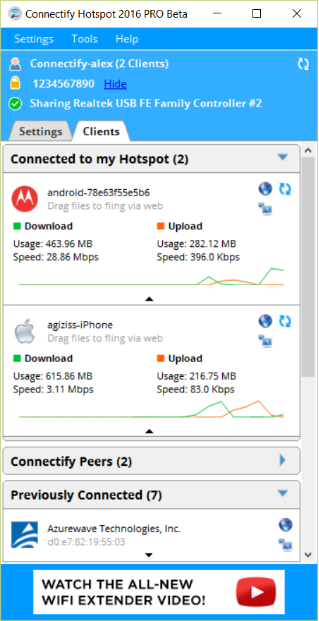 How to uninstall Connectify Hotspot?
Somehow lately I've heard people complained about difficulty of uninstalling the program. For example, when users uninstall this application, several windows and errors will jump out. And the errors make you fail to uninstall it. What's worse, a dialogue box that asks you to restart your computer before uninstalling pops up again and again. It just makes you want to smash you keyboard and mouse. Actually, the trouble has been triggered when you install it. My brother told me that, several applications were bundled with the application when installed it.
Here are some solutions I think might help you out:
Manual Uninstalling Way
Before uninstalling the program, it's better to turn off it first. Right-click the ico of Connectify Hotspot on the right side of taskbar.
If you couldn't turn it off from the icon,  you could try to do it from the Windows Task Manager. Find the Connetify Hotspot.exe in the manager list, then select it and click "End Process".
Don't know how to start Windows Task Manager?
1. Press the following keys: Ctrl+Alt+Del,and then choose the "Start Task Manager" option from the screen that appears containing the options called Lock this computer, switch user, sign off, change a password, and start Task Manager.
2. Move your mouse to an empty place on the taskbar, right-click this area, and then click on "Task Manager" option.
Now to uninstall Connetctify Hotspot manually:
1. Right-Click the Start Menu, click "Control Panel".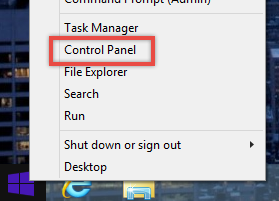 2. Double click "programs".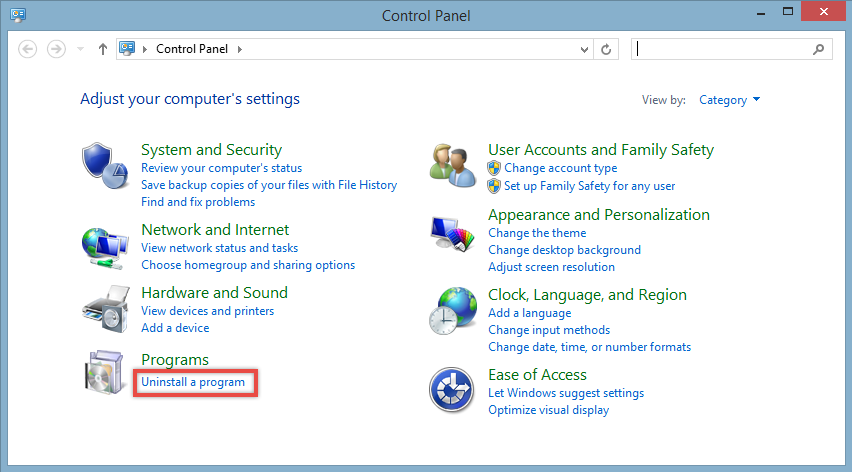 3. Right-click Connectify Hotspot in the list and choose to remove it.
Above is how to uninstall Connectify Hotspot manually in your computer. But you might not know that sometimes the program leaves leftover files in the registry. And if you don't get rid of them, you are not able to remove the application completely. How to clean them out? Here is the solution:
1. Type "Connectify Hotspot" in Windows Search and delete the search result.
2. Enter regedit to open the Registry Editor. Unfold every folder to find and delete all the files related to the program.
How to open Registry Editor:
1. Click the Start Menu and select "Run". Type "regedit"  into the Run box and press "Enter" , this will open Registry Editor.
2. Type "regedit" and press "Enter". Click the Start Menu and select Command Prompt. If you're using Windows 8.1, right-click the Start button and select Command Prompt. If you're using Windows 8, you can find the Command Prompt in the "All Apps" list on the Start screen. You can do this from any location in the Command Prompt. The Registry Editor will open in a separate window. You may be asked to confirm that you want to open it.
"Too many steps! We need a one-step process to uninstall Connectify Hotspot!"

How to uninstall Connectify Hotspot completely from your computer?
Here I happen to have a shortcut to fill the bill.



Special Uninstaller is a thoughtful all-in-one program uninstaller for windows-based operating systems. It effectively removes any program , leftover files , and registry entries.



Special Uninstaller makes your trouble far far away. Here's the using instruction:
As you can see from the picture below, that is the main panel of Special Uninstaller when you start it. With a clean and modern interface, you can uninstall Connectify Hotspot easily.
Step1. Select the program you want to uninstall from the list on the left and click "Run Uninstall".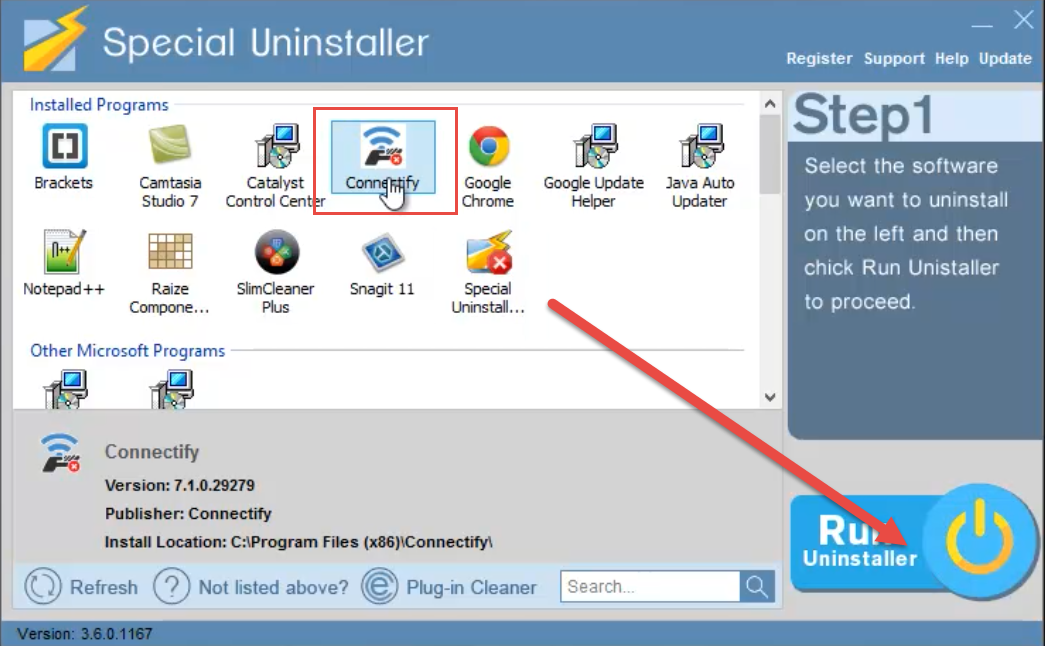 Step2. Special Uninstaller will ask the users whether you want to uninstall the program, just make sure you selected the right target program and click "Yes". And  it has been already removed.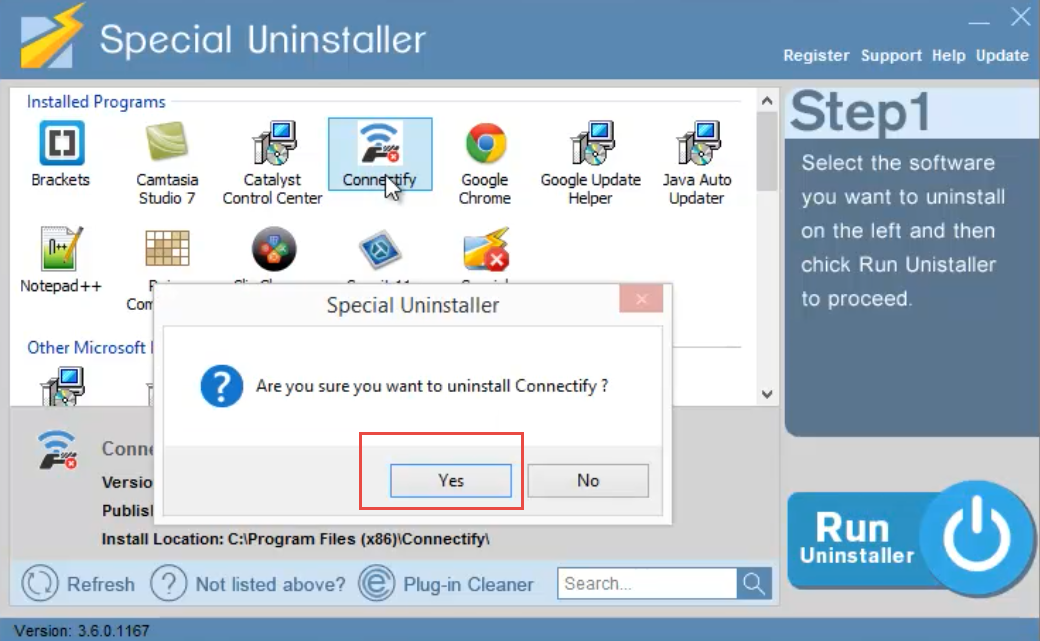 What about leftovers? Don't worry, it is a real one-step process. Click "Scan Leftovers" to detect the leftover files and registry entries until the uninstall process completed.
Step3. Select the files you want to delete in the list on the left, then click "Delete Leftovers" to remove the related files you don't want.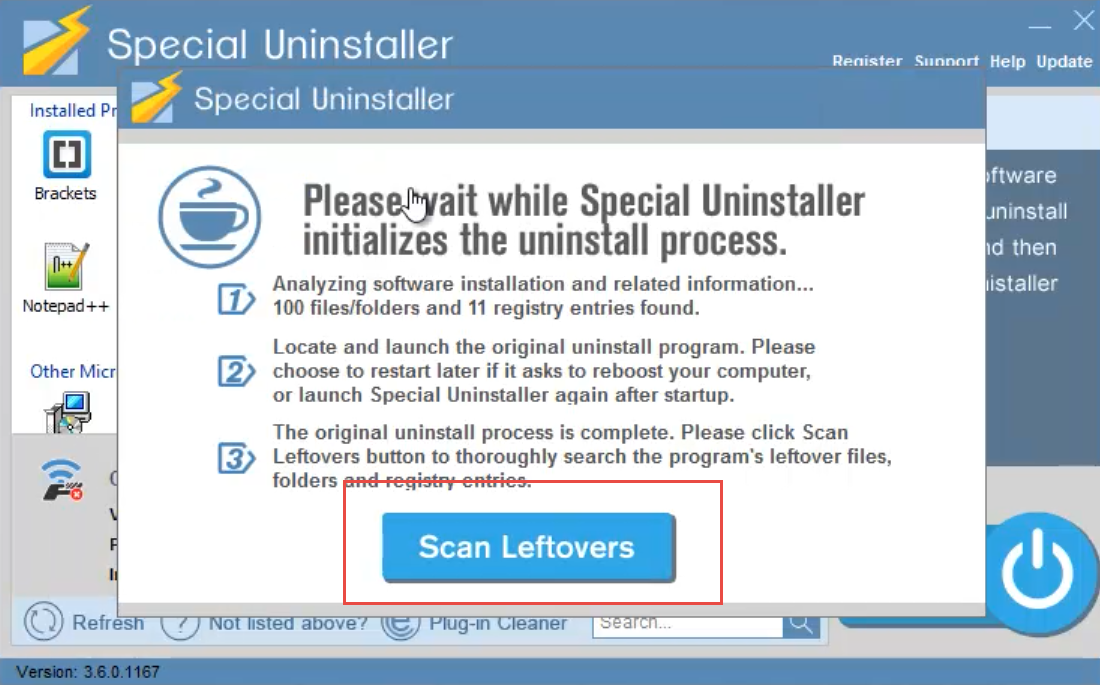 You can see the program leftovers on the left. Then click "Delete Leftovers" to completely uninstall the program.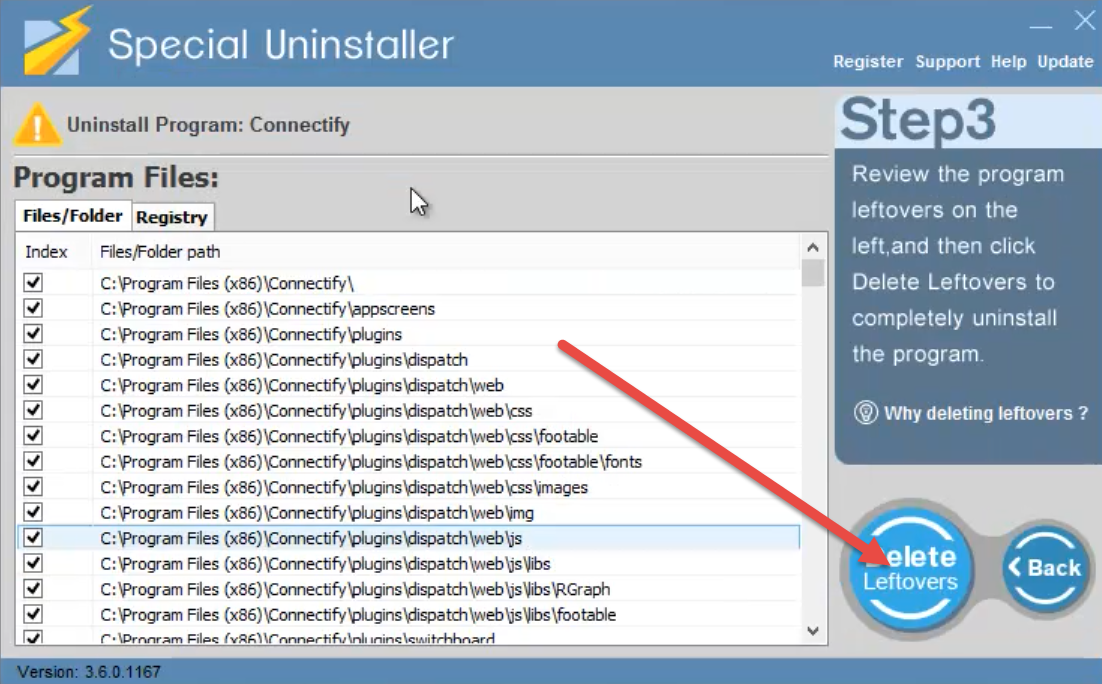 Within seconds, all the leftovers of the application have been deleted.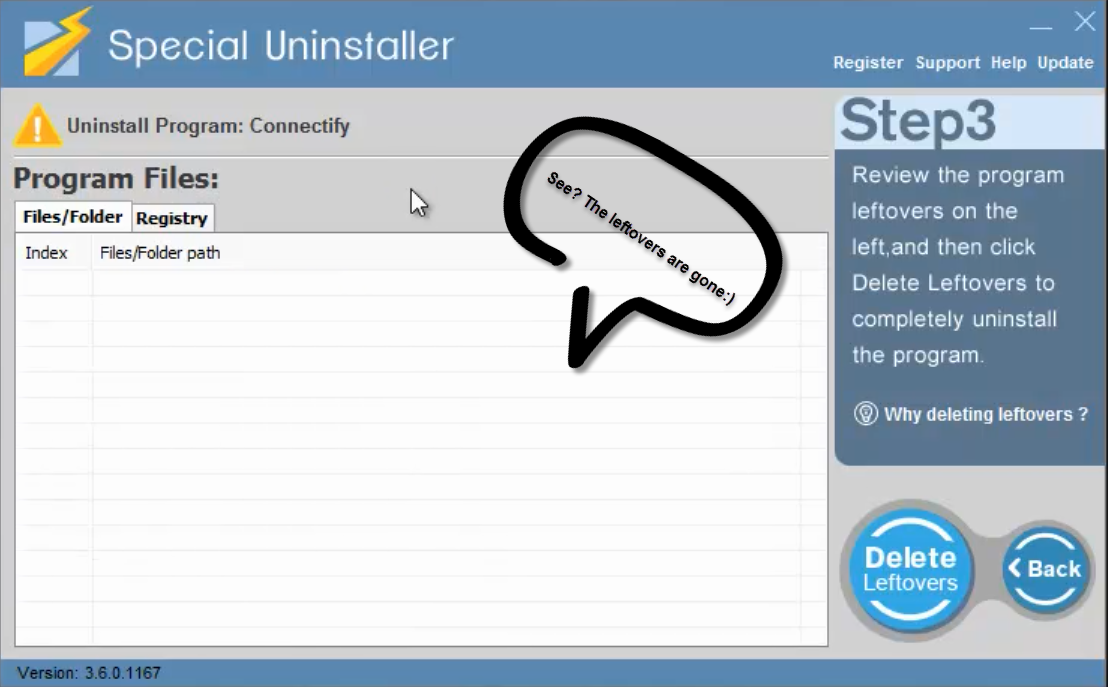 Until now, Connectify Hotspot is 100% uninstalled. Isn't it cool? I am sure there won't be any angry keyboard and mouse smash.
To be specific, let me show you  how to do it in a video:


Tips for Users:
On the main panel, click "support" in the upright corner to contact our support team if any problem unsolved.
At the bottom of the main panel, click the Refresh button to refresh the list if there is any newly installed program.
Still can't find the unwanted program? Click "Not listed above?" to specify the program install directory.
"Plug-in Cleaner" is for users to remove stubborn toolbars and restore browser settings effectively.
Type the key letters of the app name to search the program conveniently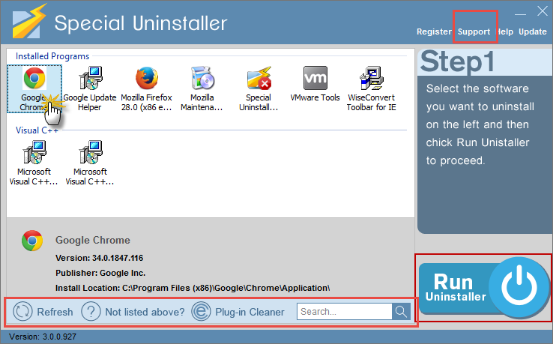 Last but Not Least
I am happy if Special Uninstaller could help you completely uninstall Connectify Hotspot. It also can remove other stubborn programs and avoid unknown programs.



For more information or want to know more ways about uninstalling please click  here:
Smart Ways to Uninstall SlimDrivers Free
Know How to Uninstall Screencast-O-Matic Quickly on PC