I've learned many users are having troubles to uninstall RealDownloader, so I'm hereby providing solutions with some extra information that you may want to read.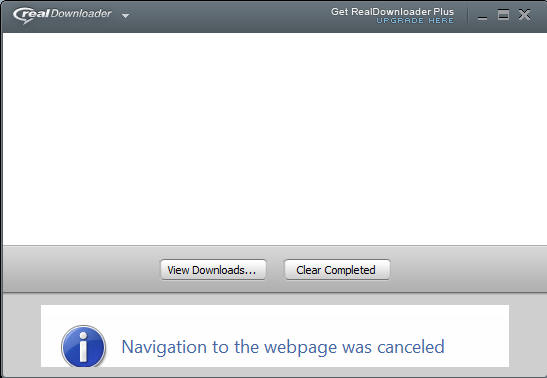 When you're certain you don't need/want an application any longer, removal is always the right thing to do, though it's not a large-sized application that takes much disk space. Because keeping a needless application on the system, you may receive unimportant notifications or prompts from time to time, in the meanwhile the system resources can be consumed without you notice. Now if you're sure you want to completely
uninstall RealDownloader
, continue reading this instruction.

RealDownloader – Program Overview
As RealPlayer's accessory tool, RealDownloader provides an easier way for users to download/upload video files with a high speed.
After the installing RealPlayer and restarting your web browser, go find the video you would like to download on the Internet. You will notice RealDownloader at the top of your browser reacting to the content, letting you know if there is a video available for download. Click it, then click the Download This Video button. The video will be automatically saved to your RealPlayer Library. As the video is being downloaded, it appears in the RealDownloader window.
If You Need to Uninstall RealDownloader
There are two ways to access RealDownloader, one is to install RealPlayer, the other is to install Realdownloader only. So if for some reasons you want to reinstall the program, you know how where to get it.
And as you might have noticed that removing either of them will uninstall RealDownloader, in the following tutorials you can choose to perform the steps for either too.
Option 1: Uninstall RealDownloader with A Safe Cleaning Tool
The first one I would like to introduce is an easy-to-use, small-sized tool that applies to all the popular Windows OS versions. You can also try to uninstall other programs that are not welcome anymore in the system with it. How does it work? Take a quick look below:

1. Click any of the blue download buttons on this page or visit the homepage to download Special Uninstaller.
2. Run it, and you can see clearly what programs are installed currently. Choose RealDownloader and hit Run Uninstaller.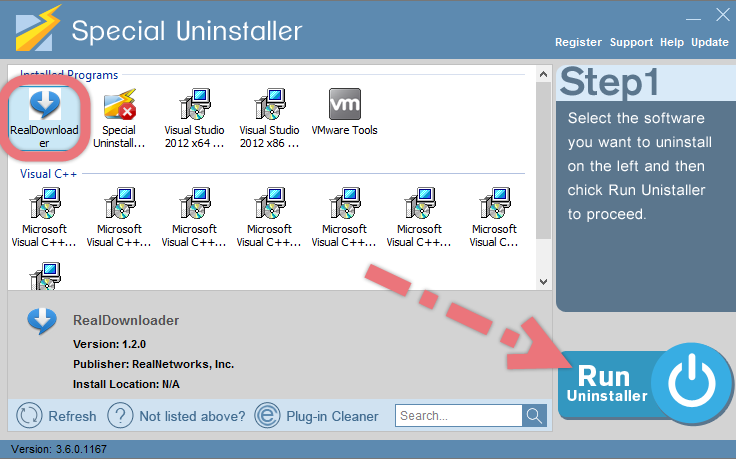 It will scan for all the related files and get ready for your next request, during which you may be asked for confirmation of this removal, just click Yes/OK to proceed.
3. Click Scan Leftovers when it turns to blue, then you see the all the vestiges that most users will forget to delete during the manual removal. Click Delete Leftovers to fully uninstall RealDownloader.
Clicking BACK to refresh the list of currently installed programs, and check whether your target is no long there. I do hope this recommendation can be a better removal solution to you anytime. To find out how to remove the program by standard means, read the tutorials under the following subtitle.
Option 2: Manually Uninstall RealDownloader on Your Own
1. Close the RealPlayer/RealDownloader program.
2. Press and hold Windows key + C on your keyboard to open the Charms, and click Search.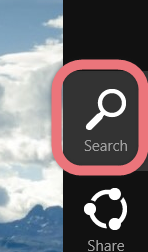 3. Type "RealDownloader" in the box, right-click on the result, then select Uninstall.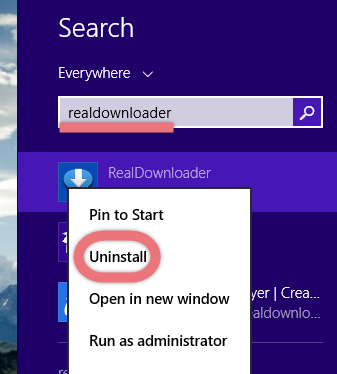 4. You will be brought to the list of currently installed programs. Find and double-click RealDownloader to activate its built-in uninstaller.



5. Follow the on-screen instructions to proceed with the removal.
6. To check whether there is any remaining files left behind, hit Windows key + C again, click Search and enter "regedit" to open the Registry Editor.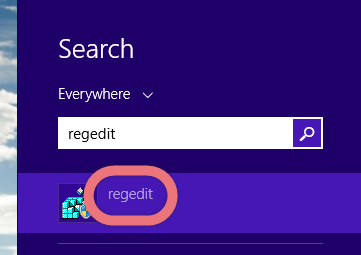 7. On the navigator click Edit > Find…, and search for "RealDownloader." If any remaining files are found, delete them to completely uninstall RealDownloader.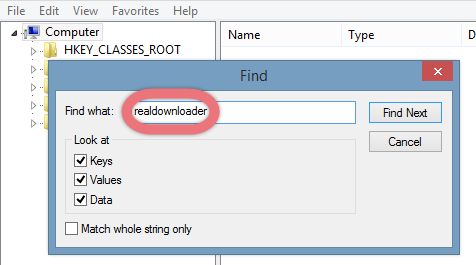 8. Now you can restart your computer to take effect.


3 Alternative Ways to Download Online Videos
Watching videos is most people's favorite pastime on the Internet, but doing that may be a problem if you're dealing with a slow Internet connection. I believe in any cases, it would be great to first download those videos then watch it like you would a full movie without interruptions.
Here are few web downloaders for you to try:
KeepVid
It is quite simple to use. Just enter the video URL (video's page address) and click the Download button. You will then be shown the various formats the video can be downloaded in, along with their download links.
SaveVid
SaveVid is an online downloader which supports downloading videos from many other video websites. The process of downloading is also simple: enter the video's page URL in the input field and hit Download button.
ClipNabber
ClipNabber is an online tool to download videos. It's available in various International languages. The process of downloading videos from ClipNabber is same as others.
So if you intend to uninstall RealDownloader and look for another to try, you can refer to the list.
How to Remove HitmanPro        How to Remove Virtual DJ 7