T his article explains how to correctly install and uninstall RoboForm in Windows. If you're a user in need, you'll find answers here.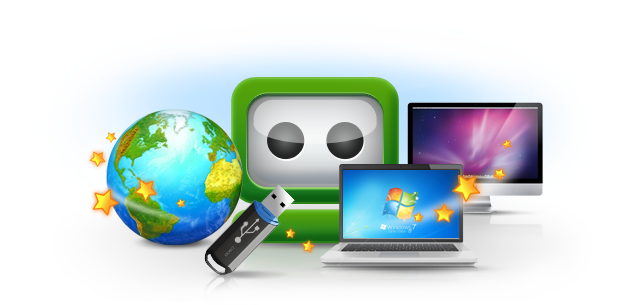 Developed by Siber Systems, RoboForm is used as a password management and web form filling application that automates the input. It supports many browsers including Internet Explorer, Firefox and Google Chrome. In order to manage passwords securely, you also have to set up a master password to encrypt data stored by RoboForm. This is the only password that must be kept in mind and will be required when you manage passwords and the said data.
The application not only makes login and filling faster and easier, but also enhances the security, according to its official site. For instruction to uninstall RoboForm, click here; to know more about the reinstallation, click here.

Method 1: Manually Uninstall RoboForm Yourself
1. Make sure to close your browser, the RoboForm program and the related processes, or the RoboForm.dll will remain locked.
2. Click the Start button in the bottom-left of your screen, and click the Down Arrow.
3. In the Start screen you can find the programs of RoboForm in the list, simply click Uninstall to activate its embedded uninstaller.

4. You should be prompted that the listed folders will be deleted. If you don't intend to reinstall the program, tick the option "Remove all Passcards, Identities, Safenotes (RoboForm User Data) from this computer," then click OK.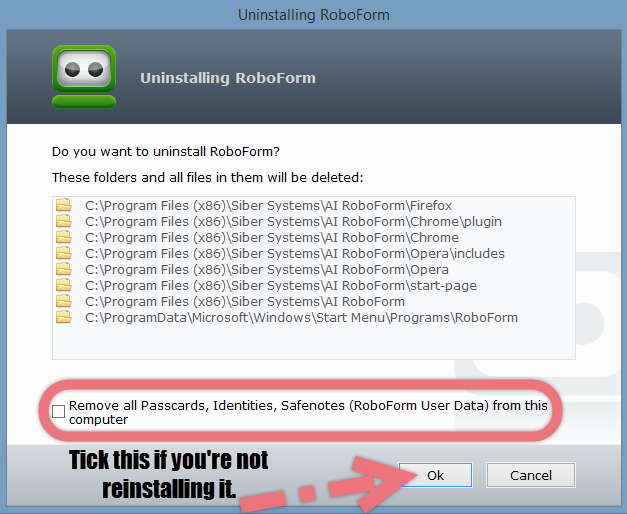 5. Then you should be asked "Are you sure you want to delete your User Data located at 'C:\User\(Username)\Documents\My RoboForm data\Default Profile'?" If you don't intend to reinstall it, click Yes.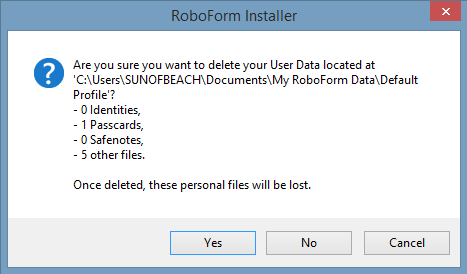 6. The uninstaller will tell you "RoboForm has been uninstalled, but these files and folders could not be deleted: C:/Program Files (x86)/Siber Systems/Al RoboForm/start-page." So, to completely uninstall RoboForm, you need to find and delete them by performing the next step.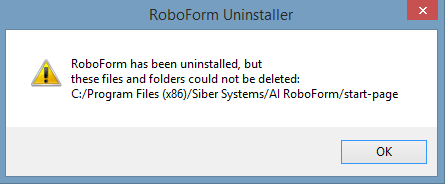 7. Navigate to the said location, and delete the Siber Systems folder.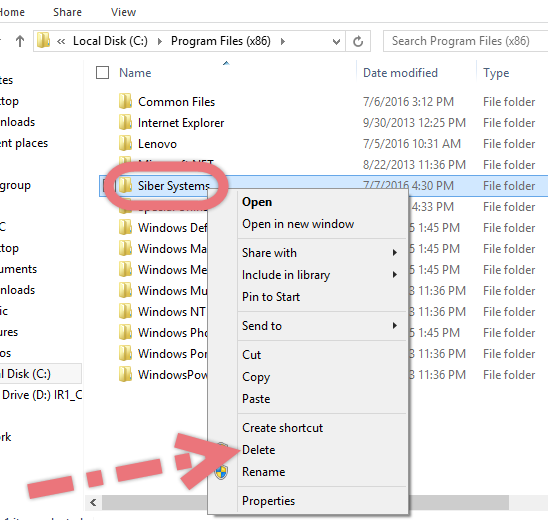 8. To check whether there is any remaining files (entries) left in the Registry, hit Windows key + C again, click Search and enter "regedit" to open the Registry Editor.
9. Check for this folder: HKEY_CURRENT_USER\Software\Siber Systems\. If you find it, delete it to completely uninstall RoboForm.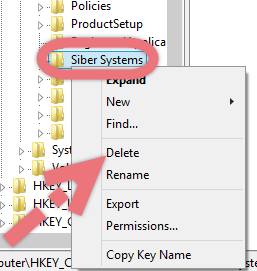 10. Now you can restart your computer to take effect.
Note: If the embedded uninstaller failed to uninstall RoboForm, you can choose to download and try the RoboForm Uninstaller. For frequently asked questions about this program, visit this page.

Method 2: Uninstall RoboForm with Special Uninstaller
The second one I would like to introduce is an easy-to-use, small-sized tool that supports all the popular Windows OS versions. You can also try to uninstall other programs that are not welcome anymore in the system with it. How does it work? Take a quick look below:

1. Click any of the blue download buttons on this page or visit the homepage to download Special Uninstaller.
2. Run it, and you can see clearly what programs are installed currently. Choose RoboForm and hit Run Uninstaller.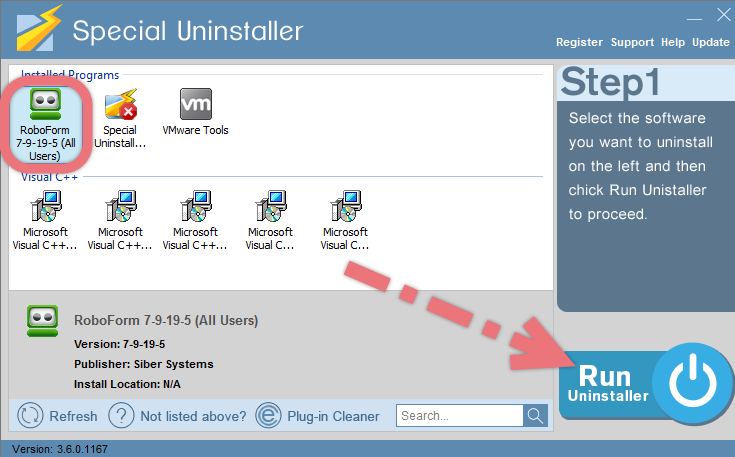 It will scan for all the related files and get ready for your next request, during which you may be asked for confirmation of this removal, just click Yes/OK to proceed.
3. Click Scan Leftovers when it turns to blue, then you see the all the vestiges that most users will forget to delete during the manual removal. Click Delete Leftovers to fully uninstall RoboForm.
Clicking BACK to refresh the list of currently installed programs, and check whether your target is no long there. I do hope this recommendation can be a better removal solution to you anytime. To find out how to remove the program by standard means, read the tutorials under the following subtitle.
If You Need to Reinstall RoboForm, Read This
Some users complained that they couldn't download RoboForm, for that the program had its own Troubleshooter, which should be able to determine what happened. It could be: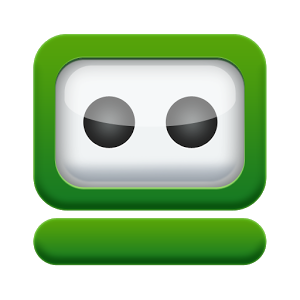 A corrupted version of the RoboForm installer file got stuck in your browser's cache. You need to clean up the cache and try to download again. To clean IE cache, select Toc > Internet Options > Delete Files.
Your PC may have an virus that modifies the download files. RoboForm installer checks its integrity and it alerts if it sees the file was changed. You need to check your PC for viruses and perform necessary disinfection.
RoboForm distribution file is an EXE file, and some buggy versions of QuickTime and possibly other add-ons intercept the download of EXE files. A quick fix is to right-click the Direct Download link on www.roboform.com, and save the file to a location.
If there is anything you want to share or ask about, leave comments below, let us know what we missed and how to better uninstall RoboForm. Hopefully this article is helpful to you.
How to Remove Camtasia Studio 8        How to Remove FL Studio 12