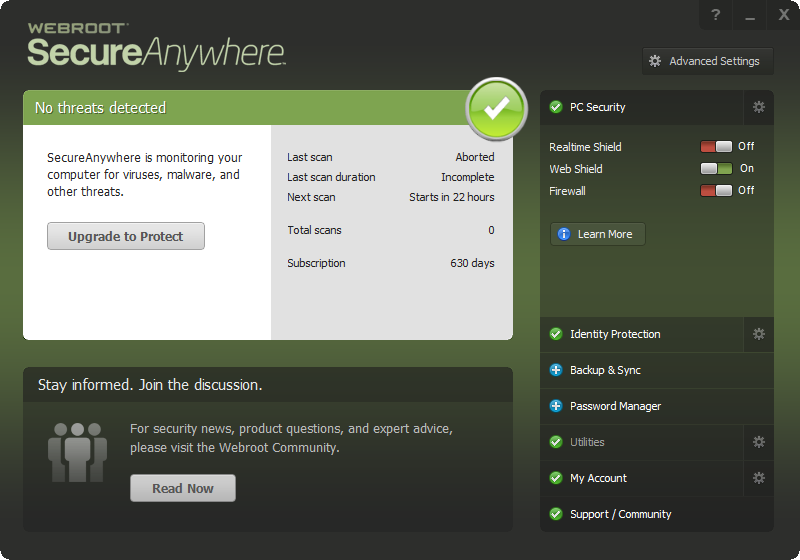 Webroot SecureAnywhere is one antivirus application of the various Webroot products, and takes responsibility for protecting your computer system and online business from virus attack. As many other general programs, it also can be uninstalled by the Windows Control Panel, but some people still encounter some problem of the program's removal. So here we learn something about how can uninstall Webroot SecureAnywhere successfully on the computer.

People may need to remove Webroot SecureAnywhere for many reasons: Webroot SecureAnywhere is not good to use, program conflict, need to reinstall it as it is corrupted, and virus invasion…, when you try to uninstall it with the common removing way, some of the following problems will appear to annoy you:
Cannot find the Webroot SecureAnywhere program name on the Windows attach uninstall utility
Being refused to

uninstall Webroot SecureAnywhere

on the computer
Associated files and processes still exist after the removal on Control Panel
It seems like additional measures should be taken if you want to remove Webroot SecureAnywhere on the computer, and what should we do? Please refer to the following instructions.
Useful tips to help you uninstall Webroot SecureAnywhere
Measure one – properly use the Windows Control Panel to remove the program
Click on Start menu >>> Control Panel >>> Add and Remove Programs
Find and locate Webroot product on the programs list
Click on the remove button, and finish the uninstall process
Restart your computer
Download and install the Webroot WRUpgradeTool.exe upgrade/cleanup tool on your computer
Running the tool on your computer, and activate the uninstall process
When the message "Removal procedures have been completed" appears, click the close button
Reboot the Windows system

Measure two – uninstall Webroot SecureAnywhere with its attach removing utility
Click on Start menu >>> All Programs >>> Webroot SecureAnywhere
Continue to select Tools >>> Uninstall Webroot
Complete the removal, and restart the computer
If some related programs still can be found, follow the step 5 through 8 in the Measure one
Measure three – uninstall Webroot SecureAnywhere with Special Uninstaller
The most popular and effective measure I would like to choose and recommend to all you guys to use a third party removal tool, which is a specialized program that enables the computer users to completely and correctly uninstall any unwanted applications installed on the computer. When searching an uninstaller online, you will find that there are a lot of available choice, and Special Uninstaller, is the one with friendly interface and advanced technology that would help the people to remove the program easily and thoroughly. Therefore, to uninstall Webroot SecureAnywhere which seems to be a stubborn item that difficult to clean up on the PC, you can try the Special Uninstaller.
1. Download Special Uninstaller on a reputable site
2. Following the prompts to install Special Uninstaller on the PC
3. Start up the uninstall program, highlight Webroot SecureAnywhere on the list, click "Run Uninstaller"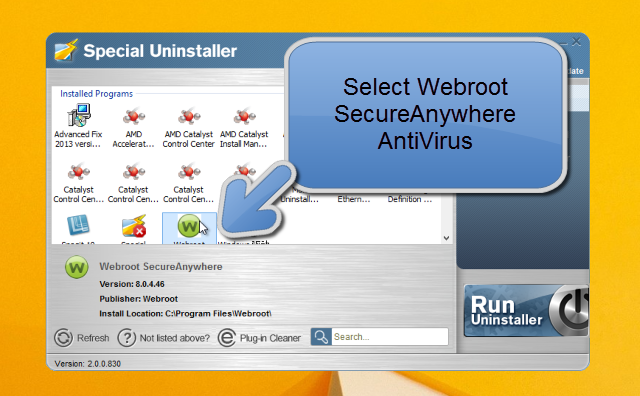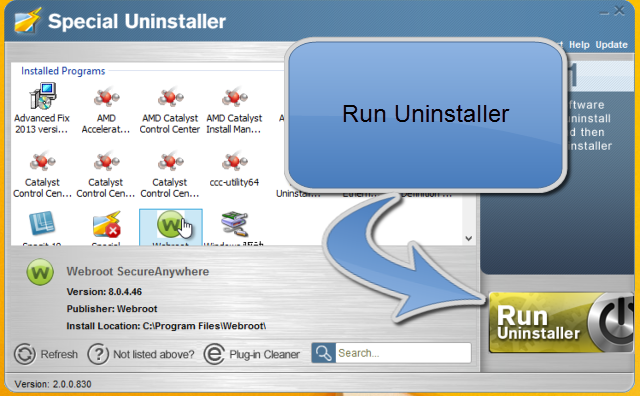 4. Finish the standard removing process with instructions, and click on "Scan Leftovers"
5. Remove all of detected leftovers, back to the step one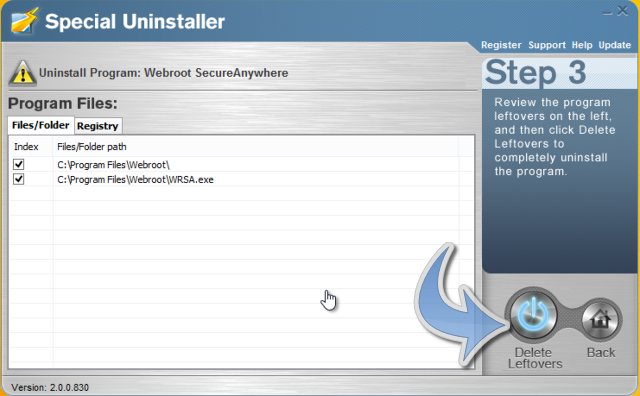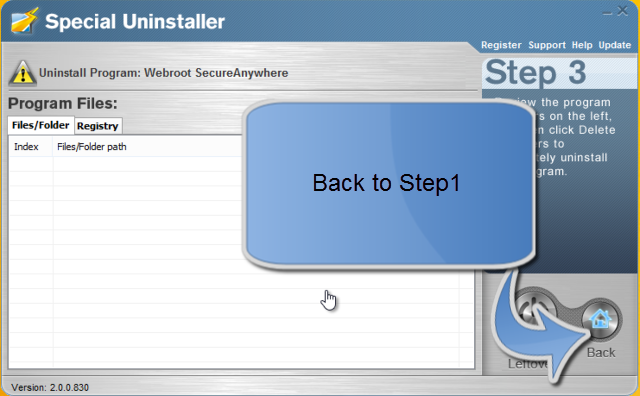 6. click on the blank, and you will see the program cannot be found on the programs list, close Special Uninstaller
7. Restart the computer